The aphid survey for 2019 is closed.  A full report will be released once the extent of infection across the beet area has been determined.  As expected the aphids first appeared in the south of the growing area and migrated north.
As part of endeavours to find solutions for growers against these viruses, the BBRO have conducted a Variety Virus Trial.  No conclusion can be made until harvest has been completed but differences can be seen between varieties in the amount of yellowing  in the canopy. Click below to view the trial.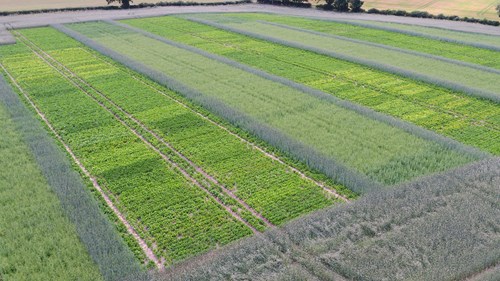 Total Myzus persicae caught: 39, 256
Total Macrosiphum euphorbiae: 36
Total Ladybirds: 1119
9883 aphids were tested for virus.   Sites with positive BMYV aphids (positives/total tested at site):
Ampton (1/248), Battisford (1/241), Bawtry (1/90), Corby Glen (2/303), Fotheringhay (1/287), Great Oakley (3/202), Hemsby (1/40), Holbeach Drove (1/156), Holbeach Hurn (1/142), Milton (1/253), Morley (1/190), Newton Flotman (3/259), Royston (2/220), Swaffham Prior (2/262), Swanton Morley (1/139), Thelveton (2/236), Thorpe Tilney Fen (1/162), Three Holes (1/159), Tinwell (2/194), Trimms Green (2/110), Wood Dalling (1/171), Woodbridge (4/127), Yoxford (1/164).
The data is now being analysed and a full report will be issued shortly.