Challenge yourself to become a Champion Grower
The Beet Yield Challenge (BYC) provides a framework to identify how to manage the resources at your disposal to the best effect. Participants enter a field at drilling and crop progress is monitored throughout the season. To do this, data is collected in partnership between BBRO and the participant and their agronomist – BBRO will collect some data but participants will need to be engaged and willing to take measurements and provide data throughout the season. This data is used to understand the factors influencing yield performance. Performance is assessed based on the proportion of your yield potential that you achieve.
Throughout the year you will receive BYC newsletters to give you tips and support to help you improve your yield and watch the progress of all the crops being monitored. 
Winners to be announced shortly.
2020-21 finalists and winner announced:
Bury: Hitchcock Farms
Cantley: HBS Farms 1995 Ltd
Wissington: Scott Oldroyd & Co
Newark: Thoresby Farming
Champion Grower: Will Baker, Thoresby Farms
 2019-20 finalists and winner announced:
The Beet Yield Challenge utilises a specially designed model to assess a crops potential, the BYC award then goes to the grower who has reached the highest potential. This year with so many negative impacts during the growing season the model predicted lower yields, however, some growers 'broke the mould' reaching more than 100% of their potential.  The winner was Bury grower John Grimsey and Judith Golder of JR Grimsey Farms, on silty clay​ soil who at 90.6t/ha reached 112% of the crops potential yield; harvesting in mid-September.  The farm had been finalists in the 2018 BYC, were pleased to be awarded the title of Champion Grower at the NFU Sugar Board's virtual 'Sugar Hour'.
Dr Simon Bowen, Knowledge Exchange Lead for the BBRO stated "As well winning this year's BYC, J.R. Grimsey came second in 2018's BYC, demonstrating a consistency in performance. Firstly, a key part of this has been having a good plant population. With a relatively low seed rate, J.R. Grimsey have managed to achieve a high level of emergence, which will have been the result of creating a good seedbed. Maximising sunlight capture by getting to full canopy quickly is next. This involved attention to detail in having effective weed control and providing adequate nutrition and moisture. Finally, maintaining that healthy canopy until harvest has enabled them to maximise sunlight interception. Although in both years J.R. Grimsey lifted their BYC beet early, they still used fungicides to reduce any loss of canopy from disease. They have entered the BYC again this year, though like many growers, they have been struggling under the very dry conditions of this spring."
The three other finalists were:
David Hoyles (GH Hoyles Ltd) 94.6t/ha (86% of potential) ​on silty loam, harvested early Jan. 
Tom Craven (AR Craven Farms Ltd)  106t/ha (96%) on ​organic silty clay soil harvested mid-Nov.   
David Pickering (Milligen McLeod Farms) 104.9t/ha (109%)​ on sandy silt loam​, harvested late January.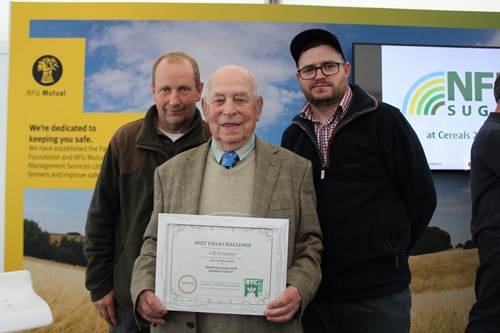 BYC 2020-21 now underway
Information on what BYC will entail, including the data you will be expected to collect during the year, can be found here: BYC Information
A general report is produced at the end of each year which is available to all growers. Participants each receive a report on their own field which includes recommendations specific to them.
Sept 2020 Pre-campaign report - download here
2020 BYC Interim Report for 2019 
2019 Newsletter 4: issued 15th October
2019 Newsletter 3: issued 10th August
2019 Newsletter 2 issued 3rd June
2019 Newsletter 1 issued 7th May
2018-19 Beet Yield Challenge Report (Download)
2017-18 Beet Yield Challenge Report