BBRO and COVID-19 – update 23 September 2020
Our BBRO offices (Bexwell and Norwich) still remain closed to visitors.  To get in touch with us please see the contact details for our team and we will be happy to hear from you.  We want to reassure you that Team BBRO are working hard on your behalf as usual and, while complying with all the current restrictions, we are continuing to carry out research work, analyse recent results and deliver new information to growers. 
BBRO winter technical events
In light of the COVID-19 situation we may not be able to deliver face to face events again this winter, however we will still be delivering key information via virtual events, videos, podcast and other publications.  Please keep an eye on the events page and look out for BBRO emails to inform you of what's coming up.
We are, as always, at your service and 'by your side' with your sugar beet crop.
Please refer to our contact us page for direct staff contact details. 
The BBRO is a non-profit making company set up jointly by British Sugar plc (BS) and the National Farmers' Union (NFU).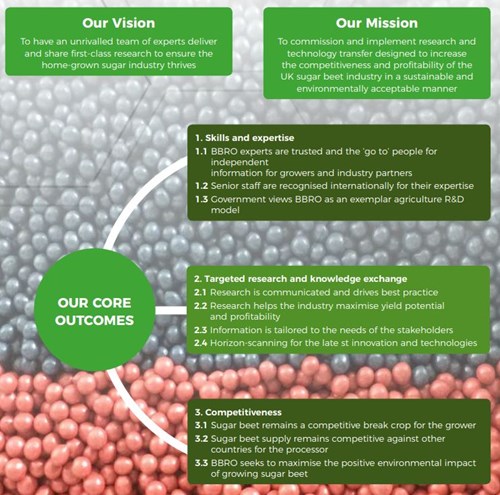 BBRO has a team of scientists and field trials operators that work hard to conduct robust research projects and deliver technical information through a wide range of knowledge exchange activities e.g. technical publication, summer open days, winter conferences, demonstration farm events and a range of social media activities. 
The BBRO Executive Board provides guidance on the strategic direction of the organisation and its members are responsible for setting the levy.  Working alongside this, the Stakeholder Committee provides guidance on future industry priorities and oversees BBRO's funded programme of research and knowledge exchange activities.
To ensure BBRO's research programme remains aligned with the industry needs we welcome feedback or comments on any of our current activities or suggestions for new work that will help to deliver our strategic objectives.  You can contact us via email at info@bbro.co.uk