BBRO and COVID-19 – update 1 July 2020
We want to provide an explanation of how BBRO has been affected by COVID-19 and to reassure you that we are doing everything we can to ensure the research and advisory service we provide to you is continuing.
Business as usual, but differently
Our BBRO offices (Bexwell and Norwich) still remain closed to visitors.  To get in touch with us please see the contact details for our team and we will be happy to hear from you. 
We want to reassure you that Team BBRO are working hard on your behalf as usual and, while complying with all the current restrictions, we are continuing to plan and carry out the research work, to analyse recent results and to collaborate with other industry partners. 
Trials in the ground
We are pleased to report that the drilling of the 2020 sugar beet trials were successful as we introduced new ways of work to embrace social distancing in the field.  We also established new ways of working to deliver the aphid monitoring network and plant clinic.  Modern digital technologies allow us to use high quality photographs alongside physical samples.
BBRO BeetField events in July
In light of the COVID-19 situation we had to cancel our summer Open Days. However, we again embraced the use of video technology and live Q&A sessions to deliver BeetField Virtually Live in its place.  We haven't discounted the possibility of some controlled face to face field visits in the autumn but this will depend on how the situation develops over the coming months.
 Ongoing BBRO advice and support
As always, BBRO are also ensuring you have the very latest information for the 2020 sugar beet crop. Please keep an eye out for all our communications, further updates and important advice and suggestions: on our website, in the regular Advisory Bulletin, on twitter and through our 'Brilliant Basics'.
 We are, as always, at your service and 'by your side' with your sugar beet crop.
Please refer to our contact us page for direct staff contact details. 
The BBRO is a non-profit making company set up jointly by British Sugar plc (BS) and the National Farmers' Union (NFU).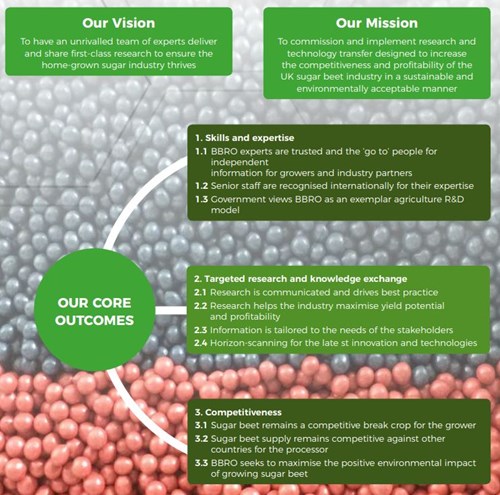 BBRO has a team of scientists and field trials operators that work hard to conduct robust research projects and deliver technical information through a wide range of knowledge exchange activities e.g. technical publication, summer open days, winter conferences, demonstration farm events and a range of social media activities. 
The BBRO Executive Board provides guidance on the strategic direction of the organisation and its members are responsible for setting the levy.  Working alongside this, the Stakeholder Committee provides guidance on future industry priorities and oversees BBRO's funded programme of research and knowledge exchange activities.
To ensure BBRO's research programme remains aligned with the industry needs we welcome feedback or comments on any of our current activities or suggestions for new work that will help to deliver our strategic objectives.  You can contact us via email at info@bbro.co.uk