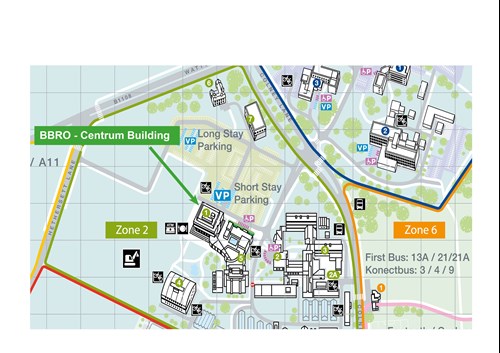 Car Parking Instructions:
Where possible inform BBRO of your visit prior to arrival so a car parking space can be allocated in advance.
Visitors parking for less than two hours may park in the short stay carpark in front of the main entrance.  Visitors wishing to stay longer than two hours, must park in the pre-pay, pay and display area (unless previously agreed). 
Vehicle registration numbers are to be given to the receptionist on arrival  (or phoned through to BBRO prior to parking).  The car parks are monitored, and parking tickets will be issued if visitors are not parked in accordance to site rules, which are clearly sign posted around the parking area.  There are electric car charging facilities and visitors can park in the bay for the duration of their vehicle charging, thereafter the vehicle must be moved to an appropriate parking space.  Please contact reception if you require further details.  All vehicles are left on site at the owners' risk.