Update 15th  Sept 2021: Wide spread risk in central growing region on 9th Sept.
As forecast in the last BBRO Advisory Bulletin, a high Cercospora risk was experienced at the end of last week. The Weatherquest cercospora map showed highest risk on September 9th in the areas shaded red.  As rain showers were very local, the actual risk will reflect whether sugar beet crops received rain. It is vital you continue to check crops this week for cercospora symptoms and ensure your fungicide programme is providing protection where required.
See latest Advisory Bulletin for disease updates
The numbers shown on the map below indicates the level of risk to the crop of cercospora developing. When an area is deemed at risk the square will turn red, and should act as a prompt for you to check your crop for signs of cercospora.   The map below covers a 10 day period and is only an indication of environmental conditions relating to increased disease pressure. Only spray if cercospora is found.
Animated map below shows the risks as of the 13th Sept. No risk recorded since.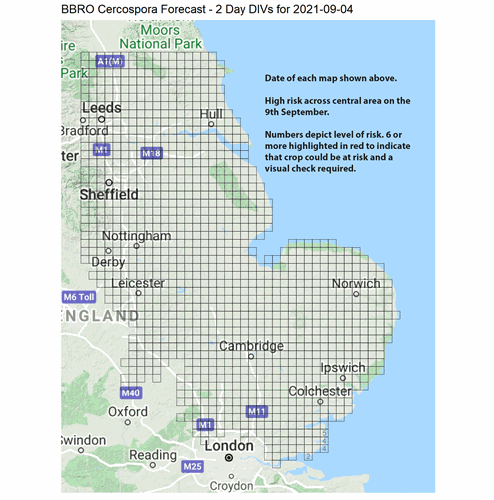 For more info on the risk of cercospora and how/why BBRO are undertaking this work, please watch this video and read the FAQs below.