BBRO has moved
In June 2021, BBRO had the opportunity to move our office and lab across the Norwich Research Park to a new location in the Centrum Building (NRP Zone 2). 
There are new instructions for visitors and these can be found on our contacts page.
Our new address is: BBRO, Centrum, Norwich Research Park, Norwich, NR4 7UG


Phone numbers and email addresses will remain unchanged.
Centrum offers us several benefits over the Innovation Centre including a much more modern building (only 7 years old), much better visitor and staff parking, a serviced reception, a lovely canteen, great meeting areas and is generally a much nicer environment for staff and visitors alike.  In a nutshell there is no downside for BBRO and in terms of occupation costs (rent, service charge, insurance and business rates) this also remains the same.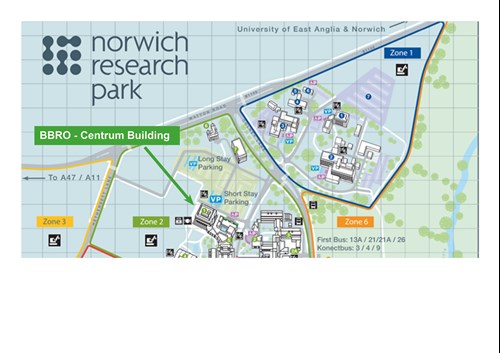 BBRO and COVID-19 – update 21st July 2021
BBRO is operating within the current government guidelines and we now have staff in the office every day on a rota with home working, however, we are still encouraging virtual meetings where possible and are still very vigilant about face-to-face contact whilst cases continue to rise again. 
The Centrum building on the Norwich Research Park remains closed to the public and any invited visitors must still wear a face mask in all communal areas.  Plant clinic samples can continue to be dropped off at the main entrance where a member of BBRO staff will collect them.  Please ensure you complete the required form (available via the Research page) with any samples submitted.
To get in touch with us please see the contact details for our team and we will be happy to hear from you.  We want to reassure you that Team BBRO are working hard on your behalf as usual and, while complying with any covid-related restrictions, we are continuing to carry out research work, analyse recent results and deliver new information to growers. 
We are, as always, at your service and 'by your side' with your sugar beet crop.
Please refer to our contact us page for direct staff contact details. 
The BBRO is a non-profit making company set up jointly by British Sugar plc (BS) and the National Farmers' Union (NFU).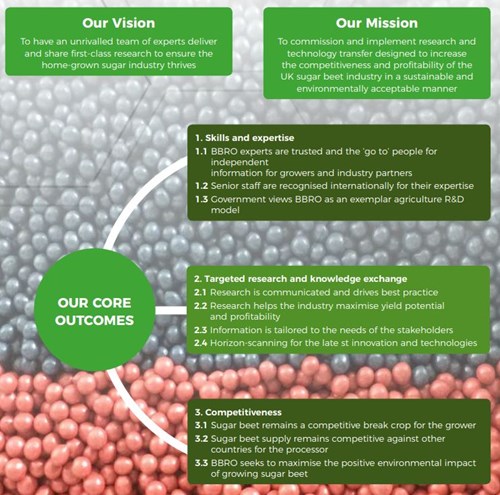 BBRO has a team of scientists and field trials operators that work hard to conduct robust research projects and deliver technical information through a wide range of knowledge exchange activities e.g. technical publication, summer open days, winter conferences, demonstration farm events and a range of social media activities. 
The BBRO Executive Board provides guidance on the strategic direction of the organisation and its members are responsible for setting the levy.  Working alongside this, the Stakeholder Committee provides guidance on future industry priorities and oversees BBRO's funded programme of research and knowledge exchange activities.
To ensure BBRO's research programme remains aligned with the industry needs we welcome feedback or comments on any of our current activities or suggestions for new work that will help to deliver our strategic objectives.  You can contact us via email at info@bbro.co.uk